When it's winter outside and New Year's holidays are approaching, I just want to add something magical to Instagram stories with themed music.
Collected for you an excellent selection of masks that contain all the necessary tracks for a festive mood.
Filters with New Year's songs on Instagram
There are quite a few effects with compositions that automatically create a great mood for us.
I tried to collect for you exactly those works that are worth your attention and are worthy to be used in stories.
Let's very briefly about each of them:
@sergey_demun (Jingle Bells 2) – snowball and 5 cool songs;
@anastasiya__yanina (new year playlist) – also snow, but already 8 tracks;
@rumiaxx (Christmas Music) – a small snowball and 7 positions of music;
@vivir.ka (Magic moments) – the corresponding inscription and song;
@kivhost (Again drifts) – Christmas tree frame and Frozen track;
@aaaaaneka (ДУБЭО) – a frame in the form of snowflakes and how the sound is used by Dubaeo;
@ alex.nosova (Let It Snow) – make-up, flying snowflakes and a couple of built-in compositions.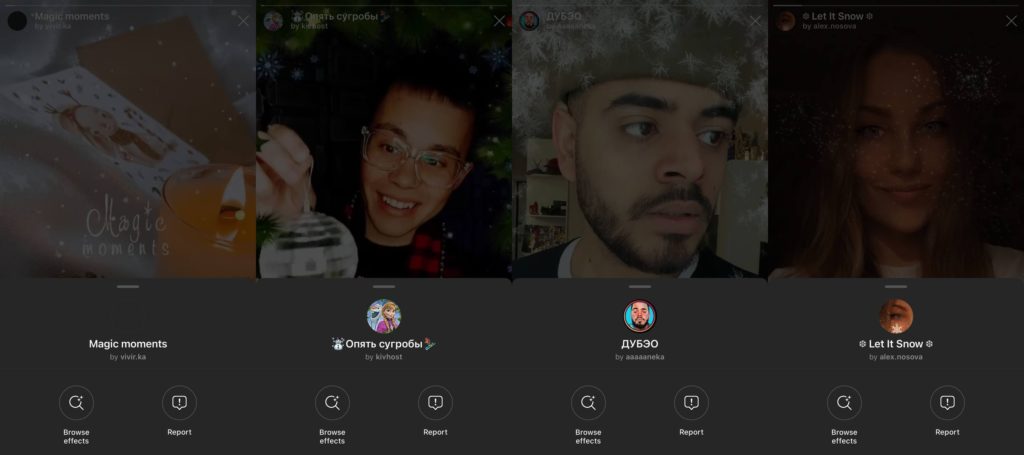 I hope you find something suitable for you. If not, then just follow our Instagram and TikTok, for sure we will add many more interesting things there.
Other interesting articles